Disinfection Services for Commercial Properties in Palm Beach County, FL
Paul Davis is available to help you secure your commercial space in Palm Beach County, FL, from pathogens with our sanitation services. Even during this time of uncertainty, Paul Davis continues to maintain our primary objective: to deliver comprehensive care for you in your time of need. As an expert, property restoration company, we know what it means to eliminate pathogens. The professional team at Paul Davis is available to provide you with a feeling of security and are ready to take care of biological hazards like COVID-19. Together we can make your business and its employees safe.
Maintaining Safety for Your Commercial Space
Here are some of the ways we look out for your safety in the Palm Beach County, FL, region:
Applying disinfectants and cleaning: At Paul Davis, we do this regularly and we have the proper equipment to handle viruses, bacteria, microbial growth and other pathogens.
Taking the appropriate precautions: Prior to disinfecting your building, we will be transparent about our condition. We ask you to make sure that you and everyone else is too so that no one is put at risk. In addition, we wear shoe covers to prevent contaminants from being tracked into your building along with using face masks.
Offer information: Our team will give you information about maintaining safety in the workplace. We invite you to ask questions regarding the pandemic and we will answer in accordance with the most current updates and procedures.
We Stay Safe for You
Transmitting coronavirus is quite easy when in close proximity to an infected person or when you touch your eyes, nose or mouth after being in contact with the virus. The specialists at Paul Davis maintain good hygiene and comply with CDC guidelines to make sure that we keep our customers safe. We frequently use hand sanitizer, wash hands for 20 seconds with soap, disinfect surfaces and maintain a safe distance of six feet from other people.
Help Us Keep Everyone Secure
For the purpose of keeping everyone safe, you can assist us with things as well. Prior to us coming over, you can address any concerns you have or even ask us to take special measures. Please inform us if anyone has experienced complications with their health such as a cold or flu. We're familiar with sanitizing and using disinfectants, it's part of our job every day. We possess the tools to eradicate viruses, bacteria, microbial growth and other pathogens, so you can trust us to provide cleanliness for your building.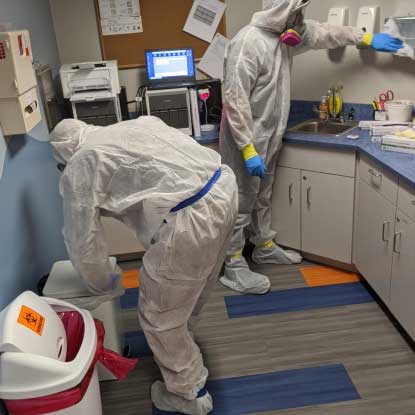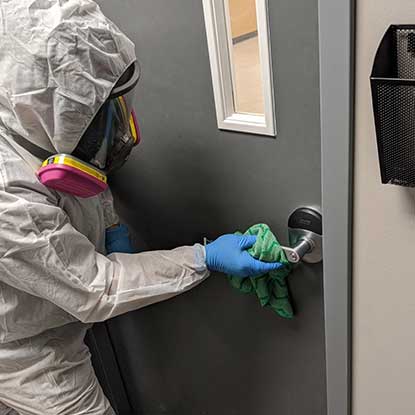 Get in Touch with Us Today
Viral and bacterial infections are a major threat in the world today, but having a sanitation program will help eliminate the risks in your building. Get in touch with Paul Davis now at (561) 478-7272 and our professional our team will help you fight COVID-19 by making your building safe. We are qualified when it comes to sanitizing commercial properties and we'll provide you with quality results.